Keep Up with all the News! 
Follow San Angelo Aggie Moms on Facebook and Instagram
---
The 2022 Tailgate Numbers are In…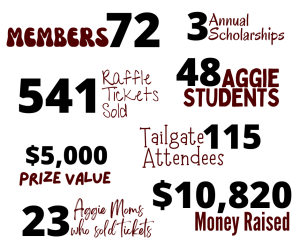 ---
Interested in supporting our mission?
Consider a donation to San Angelo Aggie Moms' Club during the San Angelo Gives Event @ www.sanangelogives.org.

No donation is too big or too small.  We will put your donation to good use for our area students attending Texas A&M University.